The Danish company TC Electronic is well known for its musical instruments and related devices, which include a wide range of effects pedals. Today, in my TC Electronic Fangs Metal Distortion review, I offer you a simple pedal that has only one purpose – gain, gain, and more gain. It creates a range from thick walls of distortion doom metal to ultra-dense thrash tones. So if you're a fan of heavy genres of music – you've come to the right place. Let's go!
Build and design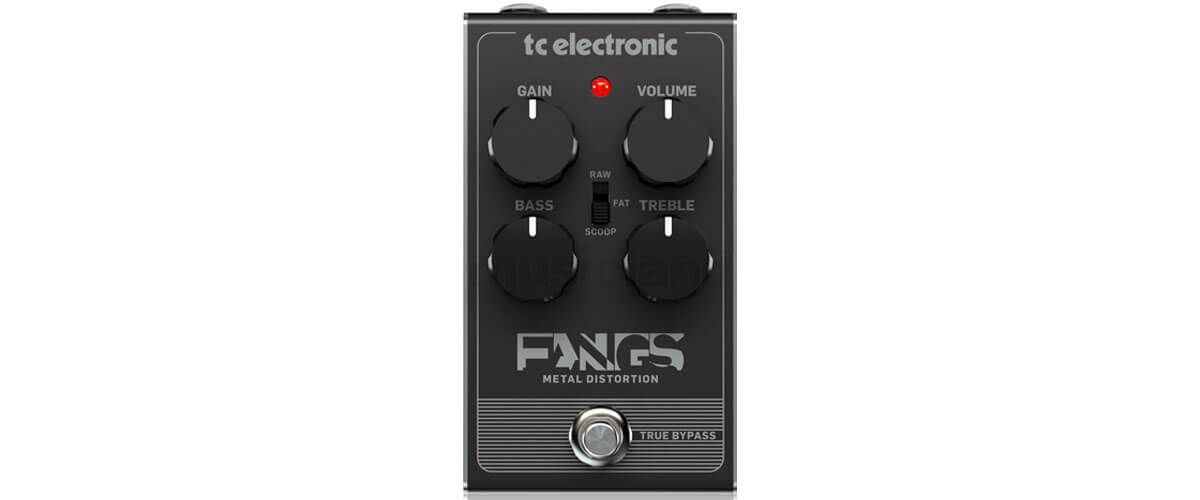 Fangs Metal Distortion has a simple, understated design. The black metal body is designed for distortion, meaning you can jump on it endlessly – it's tough as a tank. The pedal is compact and relatively lightweight. It weighs 1.1 lbs and measures 2.3″ x 2.9″ x 5.2″, so you can move it around effortlessly.
There are standard 1/4″ Input and Output jacks on the case to connect to your pedalboard with a jack to connect a 9V DC power supply, which is not included. The front panel has a metal round True Bypass button, Bass, Volume, Treble, Gain pots, and Raw/Scoop Switch. As you can see, everything is simple. But is it so regarding TC Electronic Fangs Metal Distortion features? Let's take a look.
Features
Despite its sole purpose, Fangs Metal is versatile in the distortion range. Incredibly low level. Bass and Treble EQ combined with each other have an amplitude from low-gain crunch to modern metal (from 9 o'clock to 3 o'clock). The controls are very comfortable and smooth, and I enjoyed it while experimenting with the sound.
The 3-position Raw/Fat/Scoop selector is an excellent midrange response, which provides a transition between raw classic metal tones, scooped nu-metal, and up to super beefy sludge metal tones. Scoop mode is mega-compressed hard thrash, '80s/'90s death metal. Add to that the True Bypass switching, which keeps your tone when the pedal is off, and enjoy!
Sound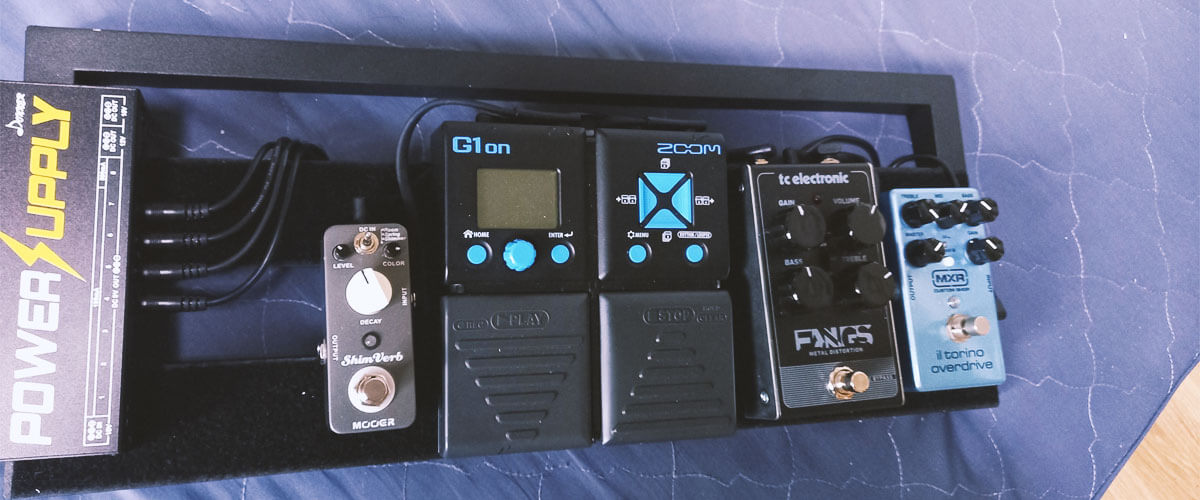 TC Electronic Fangs Metal Distortion sounds aggressive, crushing, and stunning. You'll find tight and frenetic rhythm tones and searing solo sounds. The pedal instruments will let you just sail through the timbres of true prog-metal, doom-metal, baby-metal, high metal, and '80s hard rock.
I rarely advise anything insistently because I think everyone is free to choose for themselves, but for its value, Fangs Metal Distortion is a godsend for metal players. Honestly, I would rank it with distortion pedals from Boss, MXR, and EHX. Add the size to its sound and price, and you get something you really need to have in your arsenal.
Key specs
Controls: pedal switch, gain, volume, bass, treble, raw/scoop.
Connectors: input jack: 1/4-inch, output jack: 1/4-inch, DC IN jack.
Power Supply: battery (9V), DC adaptor (9V).
Size (WxDxH), inch/cm: 2.9×5.2×2.3/7.4×13.2×5.8.
Weight oz/g: 17.6/500.