There are many serious companies among the world leaders in designing and manufacturing professional audio equipment and musical instruments. And the German Behringer is one of them. In my Behringer VT999 review, I will tell you about a very interesting model, which is a tube overdrive/distortion pedal, and it is called Vintage Tube Monster. The only things I find vintage about this pedal are the design and the fact that it is a tube pedal. But I assure you, it can surprise you with its features and sound. It is a very good device, especially considering its relatively low price.
Build and design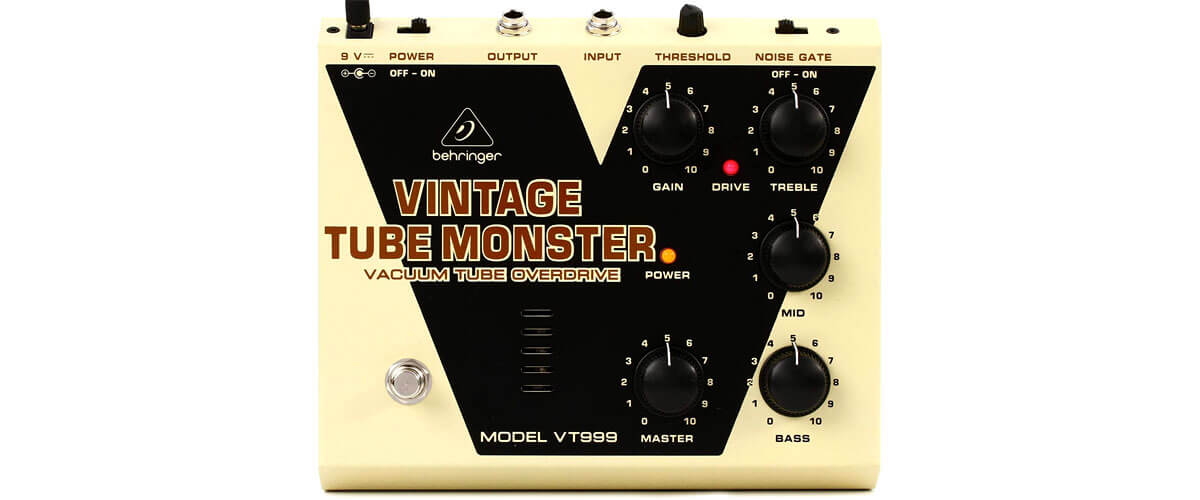 The Behringer VT999 is bulky. And, looking ahead, that's the only downside I found for myself. It measures 2.4″ x 8.7″ x 6.7″ and weighs 3.02 lbs. So it's not the kind of thing you can carry around all the time, but you can keep it stationary in your studio. Anyway, the pedal is assembled very sturdy and comfortable. The metal body on the bottom has a lamp replacement cover. The pots and switch are very smooth and silent but sensitive. The slightest touch can throw off all the settings, so you shouldn't touch the pedal while playing. What is important is that the pedal does not overheat, unlike many other tube models.
On the top panel of the vintage-inspired soft yellow case, you will find the Gain, Treble, Mid, Bass, and Master controls, a mechanical hard bypass pedal switch, and an LED status indicator for power on/off. And on the top sidewall: the standard Input and Output for circuit connection (1/4″), a power connector, Power and Noise Gate buttons, and a Threshold knob. Look for more details about Behringer VT999 features in the next paragraph of the article.
Features
So, a hand-selected 12AX7 vacuum tube provides the gain that earns the Monster name and sustained warm even-order harmonics. Thus the VT999 is almost as good as the sound of a tube amplifier. At the same time, the pedal consumes a huge amount of current, so a 9V DC power supply is included to improve battery operation.
An obvious feature of the VT999 is the built-in Noise Gate with an adjustable Threshold that can be turned off. It literally suppresses noise on the line so that the sound is not ruined. I'll also mention the mechanical True Bypass here to preserve your tone. These features make your guitar sound clean and the pedal, in turn, useful for any player.
Separate Gain (responsible for the degree of distortion), Master (output volume), and a 3-band EQ with Treble, Mid, and Bass knobs (frequency adjustment) provide a range of sound from hard distortion to light, soft overdrive, suitable for blues. In general, you could call the sound vintage, but for me, it sounds modern and fresh, and I find it a benefit of this pedal model.
Sound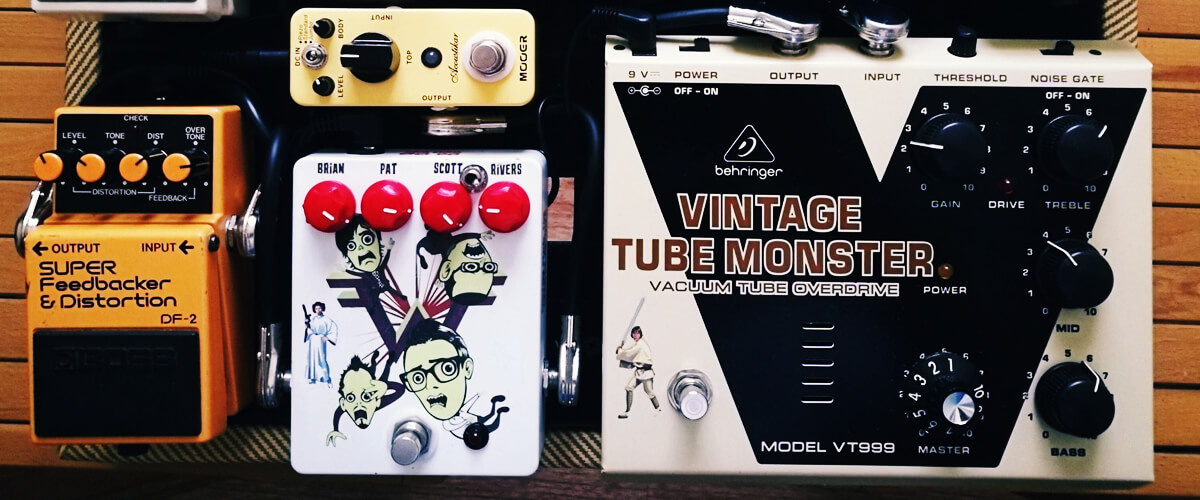 In conclusion, as I said, the only drawback I would call is its size and weight. Its filling could definitely be placed in a smaller case. But this is probably due to its power consumption, which is why the VT999 doesn't overheat, dissipating heat inside itself.
The Behringer VT999 sounds great for its price. A worthy competitor to many comparable models of a similar rank. It can be absolutely silent and perfectly holds the tone you set. The pedal will work great with humbuckers in a chain with other effects pedals, giving off an exclusive high gain for metal riffs. You should know that it doesn't have a middle for a round crunchy sound- you go from one extreme to the other right away. But I like playing blues, jazz and old-school rock with it because it can sound warm and mellow. With the right instrument and pedalboard, you get impressive results.
Key specs
Controls: pedal switch, gain, master, bass, mid, treble, noise gate, power, treshold.
Connectors: input jack: 1/4-inch, output jack: 1/4-inch, DC IN jack.
Power Supply: DC adaptor (9.6V).
Size (WxDxH), inch/cm: 2.4×6.7×8.7/6.1×17.2×22.
Weight oz/kg: 48.3/1.37