Darkglass Electronics, known for the quality of its products, created the Microtubes X series in 2018. The Microtubes X7 was among them. But in this Darkglass Microtubes X Ultra review, I will tell you about an even more versatile model than the X7, which is its modified version. It's a versatile bass amp pedal that includes a DI box, distortion, and EQ, as well as some additional features to create the perfect instrument for bassists. At the same time, with all its advanced features, it has remained compact. So let's take a look at the details of the X Ultra so you can see just how good it is for you.
Build and design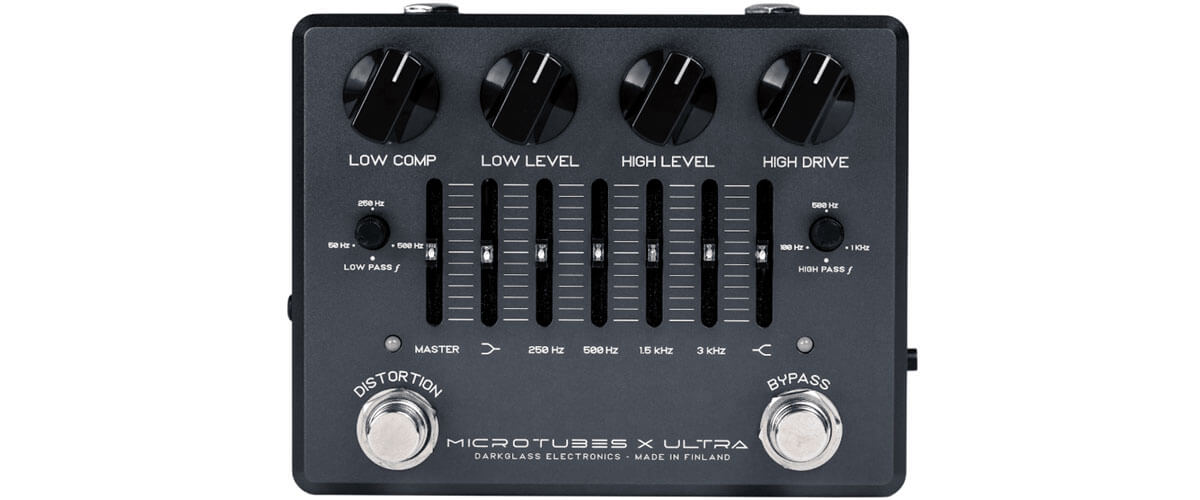 The small body (4.92×3.77×2.24 inches) in graphite color accommodates a huge number of toggles, connectors, and switches. On the left side panel, there is a Direct output XLR for connecting to loudspeakers or mixing consoles, and a Cab sim, which bypasses the digital circuits if necessary, and the pedal receives a signal with zero delays. On the right side panel, you will find a Micro USB input for PC/Mac connection and settings with the Darkglass Suite program and Ground Lift. Finally, the top panel allows you to connect the pedal to the circuit via the standard Input and Output, as well as plug-in Headphones (1/8″ stereo jack), Aux-in (also 1/8″), and connect to a power source.
The X Ultra's front control panel is pretty simple and intuitive: metal round Distortion and Bypass buttons, Low Comp, Low Level, High Level, and High Drive control. And that's not all! A 4-band equalizer, flanked by a master volume and two shelf frequencies, two footswitches that allow you to turn on/off the EQ and distortion section. And the EQ, shelf, and master volume sliders are illuminated when turned on, making the pedal easier to control in the dark. And all these at a pedal weight of 0.94 lbs. I think it's great, and in the next section, I suggest looking at some Darkglass Microtubes X Ultra features.
Features
Microtubes X Ultra is a multifunctional pedal for bassists. That's why the bass and treble control in it is separated with two filters, which allow you to simultaneously achieve aggressive distortion and, at the same time, fat sound. That is, the treble signal is distorted (compressed) by the CMOS circuit, while the bass signal (the actual bass) is kept clean and then processed by the built-in variable-level compressor. You get maximum control and have a wide range of tones in the bass frequencies.
The 6-band graphic equalizer is incredibly flexible. You have treble and bass bands, as well as sliders for 250 Hz, 500 Hz, 1.5 kHz, and 3 kHz. I've tried several different guitars and compositions and got great results in every case. In addition, the Microtubes X Ultra has a cabinet impulse response simulation, which has already won several awards. Using this feature, you can send the sound of a cabinet with a microphone directly to a PA system or recording device. And with the headphone pedal, you can play without disturbing others.
Sound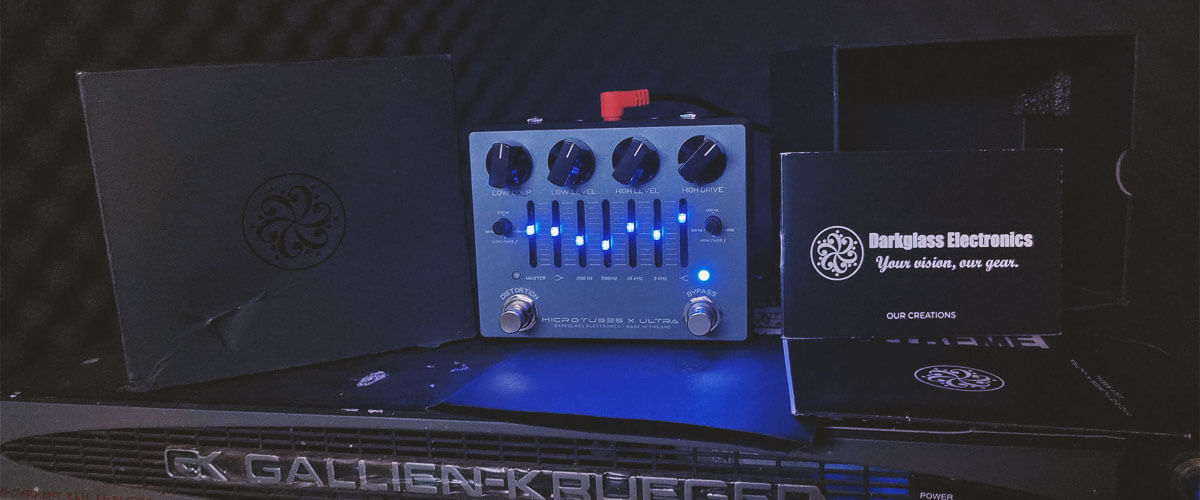 Darkglass Microtubes X Ultra sounds substantial, greasy, and aggressive, delivering full overdrive or exuberant, crisp, crunchy, and dirty when you need it. Its versatility makes it great for studio and live performances or even practice at home. It's essentially a "rig-in-a-box" for modern metal distorted or clean bass.
Yes, it's not a cheap device, but I think it's worth the money. Besides, the X Ultra is made in Finland, and Darkglass is one of the leading brands in manufacturing modern distortion tones. And for all its stuffing, the pedal remains compact and easy to use. So if you want to add some really cool stuff to your pedal collection, it's right in front of you!
Key specs
Controls: high pass freq, high drive, high level, low pass freq, low comp, low level, distortion.
Sliders: cab sim, master, low shelf, high shelf, 250Hz/500Hz/1.5kHz/3kHz: +-12 dB.
Connectors: input jack: 1/4-inch, output jack: 1/4-inch, DC IN jack, direct output: balanced XLR, headphones: 3.5mm stereo output, aux: 3.5mm stereo input, USB type B.
Power Supply: DC adaptor (9.6V).
Size (WxDxH), inch/cm: 4.9×2.2×3.7/12.5×5.7×9.6.
Weight oz/g: 15.1/430.