Many names come to mind when it comes to effect pedals for bass guitars. MXR, which has long honed its craftsmanship in producing these devices, is also among them. But in this MXR Bass D.I.+ review, I propose to consider the advantages of the model, which is a direct injection box (direct input box) for bass, with which you can connect the instrument to the microphone input of the mixing console without distortion, signal loss, noise, and interference. It also functions as a preamplifier. Cool stuff. But let's make sure of it.
Build and design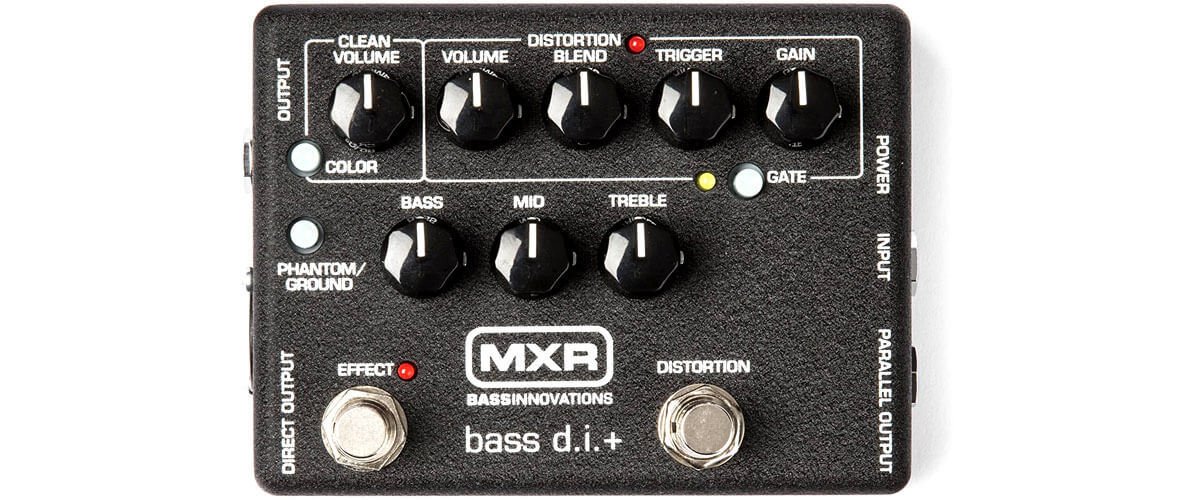 The quality of the DI box inspires confidence- the manufacturer definitely made an effort. The black metal case with reliable switches measures 1.5″, 4.9″, and 3.6″, which makes it portable. All of the controls on the MXR Bass D.I.+ have luminescent signatures, which means you'll quickly figure out what they're for and can navigate even in the dark, and there's a 9V battery compartment on the bottom. It is the only plastic part that I would treat with care. Though, it's pretty sturdy too.
On the sides, you will find 2 x 1/4″ (Instrumental and Parallel) and 1 x XLR Output (symmetrical), 1 x 1/4″ Output, and a 9V DC power supply jack, which is not included. On the front panel, there are metal Effect and Distortion buttons, Color, Gate and Phantom/Ground switches, and Clean Volume, Volume, Blend Trigger, Gain, Bass, Mid, and Treble controls. And now, I will tell you about the purpose of some MXR Bass D.I.+ features in a little more detail.
Features
With the Bass D.I.+, you get everything you need for your bass guitar in one small device. The special thing about the pedal is that it doesn't change the instrument's sound. It just lets the signal through, matches the impedances, and converts the signal to symmetrical. So you can connect it to other instruments, not just the bass! You also don't have to worry about the pedal's battery running out and the studio not having an outlet. Using the XLR (+48V) phantom power jack, you can connect the MXR Bass D.I.+ to your mixing console.
When you use Clean mode, it gives you volume and equalization adjustments. When you press the Color button in this mode, the pedal makes frequency corrections, activating the preset equalizer settings. You get the precise timbre and powerful sound of your instrument. To see how good this feature is, I'd suggest trying it out with different guitars because, in my opinion, it doesn't work for all of them.
Set the Gain and mix it with the raw signal with Blend – this will give you some "ball." The Distortion will provide a tight retro sound with great upper harmonics, but don't forget to adjust the Trigger and turn on the Gate to suppress noise.
Sound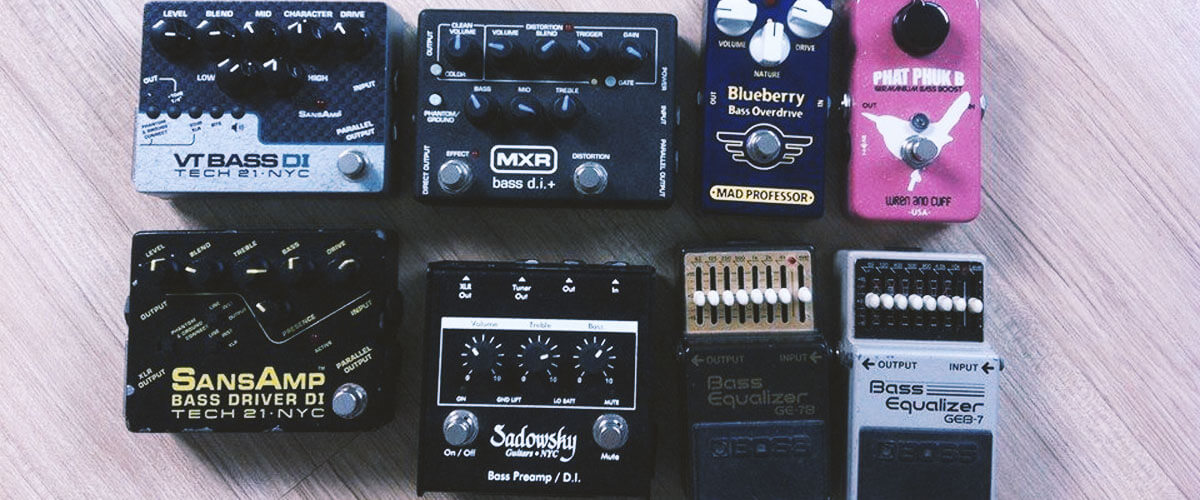 The sound of the MXR Bass D.I.+ is warm and tight. The passive pickups produce a warm, round sound, while the active pickups produce a solid, punchy sound. It's great for classic rock, pop, and country because the pedal provides quality extraction of your bass guitar's transparent signal or growl. Its old-school tones will also be good in jazz and blues. It's not just a DI box; you also get a quality two-channel preamp with clean and distortion channels. Its build quality gives you the confidence that it won't fall apart after frequent use- it's just a great bass guitarist's helper. Still, not everyone likes the retro sound, so try out the pedal before you buy it. Nevertheless, I'm sure it will appeal to many. And given its affordable price, it could compete well with many devices of its rank.
Key specs
Controls: pedal switch, distortion, phantom/ground, bass, mid, treble.
Distortion blend: clean volume, volume, blend, trigger, gain.
Connectors: input jack: 1/4-inch, output jack: 1/4-inch, balanced output: XLR, DC IN jack.
Power Supply: battery (9V), DC adaptor (9V).
Size (WxDxH), inch/cm: 4.9×1.5×3.6/12.4×3.8×9.1.
Weight oz/g: 12.3/348.