Distortion is an effect necessary for heavy genres of music. But it can still be used for other purposes. Proof of this is my list of the best distortion pedals for blues, which, when set up for light and clean overdrive, will give you results that will surprise you.
Our pick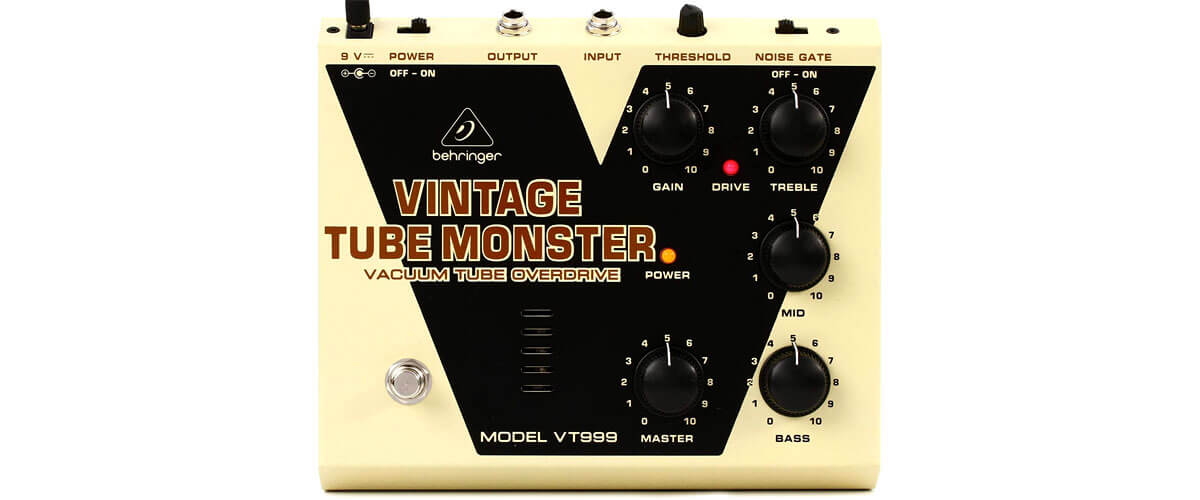 Behringer VT999
Best distortion pedals for blues
The VINTAGE TUBE MONSTER, VT999 effects pedal, has that full-tone roar of a tube engine under its hood, letting you take off with anything from warm blues overdrive to heavy distortion.
Read the full review
.
Budget distortion pedal comparison table
Name
Controls
Connectors
Power Supply
Review
Behringer VT999

best overall

pedal switch, tone, level, dist, EQ mid freq, EQ high freq, EQ low freq
input jack: 1/4-inch, output jack: 1/4-inch, DC IN jack
battery (9V), DC adaptor (9V)
Review
JOYO JF-03

budget

pedal switch, tone, level, dist, EQ mid freq, EQ high freq, EQ low freq
input jack: 1/4-inch, output jack: 1/4-inch, DC IN jack
Carbon-zinc battery (9V, 6F22), DC adaptor (9V)
Review
MXR Bass D.I.+
pedal switch, distortion, phantom/ground, bass, mid, treble
input jack: 1/4-inch, output jack: 1/4-inch, balanced output: XLR, DC IN jack
battery (9V), DC adaptor (9V)
Review
Best distortion pedals for blues reviews
There are many serious companies among the world leaders in designing and manufacturing professional audio equipment and musical instruments. And the German Behringer is one of them. In my Behringer VT999 review, I will tell you about a very interesting model, which is a tube overdrive/distortion pedal, and it is called Vintage Tube Monster. The only things I find vintage about this pedal are the design and the fact that it is a tube pedal. But I assure you, it can surprise you with its features and sound. It is a very good device, especially considering its relatively low price.
Build and design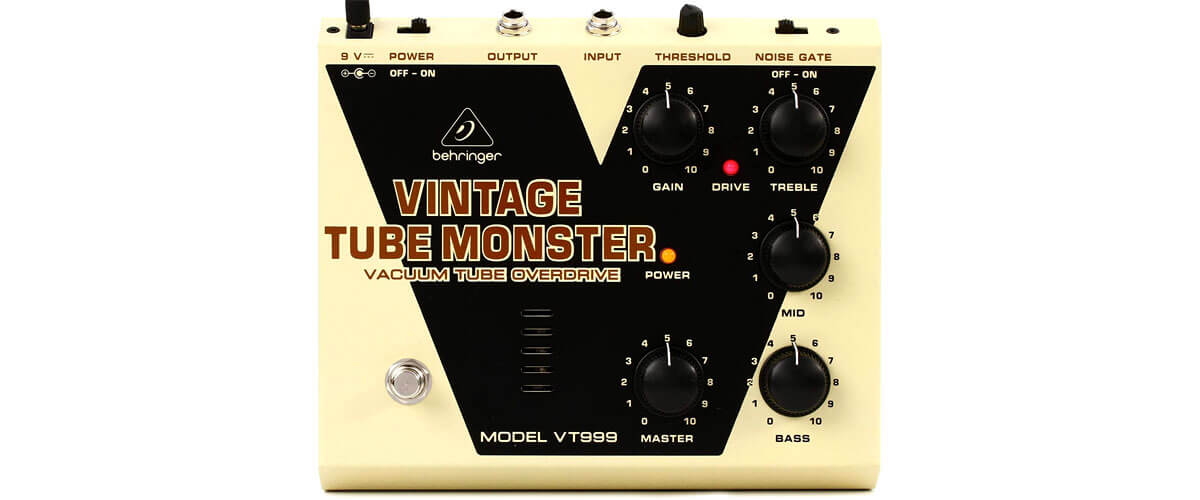 The Behringer VT999 is bulky. And, looking ahead, that's the only downside I found for myself. It measures 2.4" x 8.7" x 6.7" and weighs 3.02 lbs. So it's not the kind of thing you can carry around all the time, but you can keep it stationary in your studio. Anyway, the pedal is assembled very sturdy and comfortable. The metal body on the bottom has a lamp replacement cover. The pots and switch are very smooth and silent but sensitive. The slightest touch can throw off all the settings, so you shouldn't touch the pedal while playing. What is important is that the pedal does not overheat, unlike many other tube models.
On the top panel of the vintage-inspired soft yellow case, you will find the Gain, Treble, Mid, Bass, and Master controls, a mechanical hard bypass pedal switch, and an LED status indicator for power on/off. And on the top sidewall: the standard Input and Output for circuit connection (1/4"), a power connector, Power and Noise Gate buttons, and a Threshold knob. Look for more details about Behringer VT999 features in the next paragraph of the article.
Features
So, a hand-selected 12AX7 vacuum tube provides the gain that earns the Monster name and sustained warm even-order harmonics. Thus the VT999 is almost as good as the sound of a tube amplifier. At the same time, the pedal consumes a huge amount of current, so a 9V DC power supply is included to improve battery operation.
An obvious feature of the VT999 is the built-in Noise Gate with an adjustable Threshold that can be turned off. It literally suppresses noise on the line so that the sound is not ruined. I'll also mention the mechanical True Bypass here to preserve your tone. These features make your guitar sound clean and the pedal, in turn, useful for any player.
Separate Gain (responsible for the degree of distortion), Master (output volume), and a 3-band EQ with Treble, Mid, and Bass knobs (frequency adjustment) provide a range of sound from hard distortion to light, soft overdrive, suitable for blues. In general, you could call the sound vintage, but for me, it sounds modern and fresh, and I find it a benefit of this pedal model.
Sound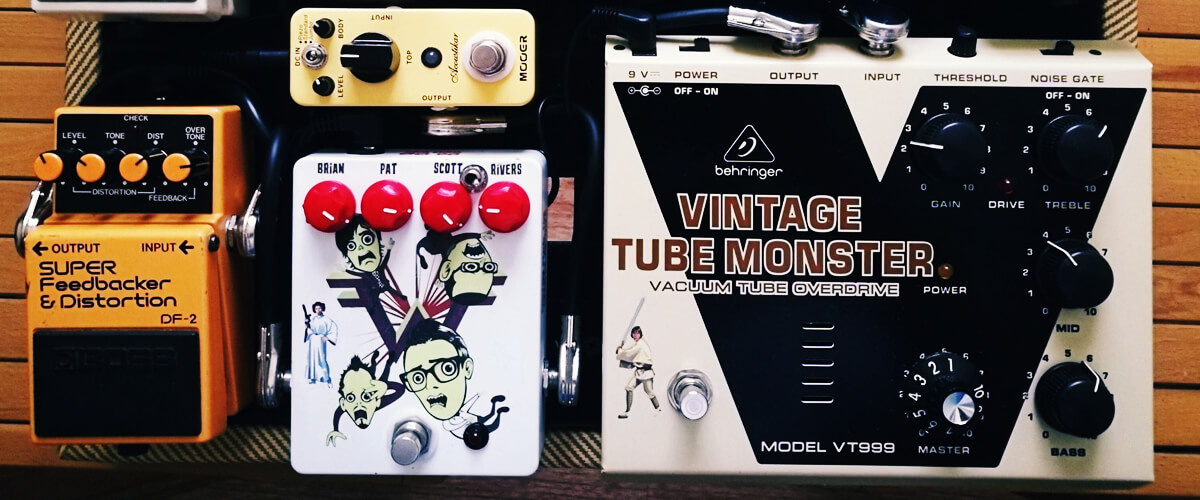 In conclusion, as I said, the only drawback I would call is its size and weight. Its filling could definitely be placed in a smaller case. But this is probably due to its power consumption, which is why the VT999 doesn't overheat, dissipating heat inside itself.
The Behringer VT999 sounds great for its price. A worthy competitor to many comparable models of a similar rank. It can be absolutely silent and perfectly holds the tone you set. The pedal will work great with humbuckers in a chain with other effects pedals, giving off an exclusive high gain for metal riffs. You should know that it doesn't have a middle for a round crunchy sound- you go from one extreme to the other right away. But I like playing blues, jazz and old-school rock with it because it can sound warm and mellow. With the right instrument and pedalboard, you get impressive results.
Key specs
Controls: pedal switch, gain, master, bass, mid, treble, noise gate, power, treshold.
Connectors: input jack: 1/4-inch, output jack: 1/4-inch, DC IN jack.
Power Supply: DC adaptor (9.6V).
Size (WxDxH), inch/cm: 2.4x6.7x8.7/6.1x17.2x22.
Weight oz/kg: 48.3/1.37
In my opinion, the Behringer VT999 is the best distortion pedal for blues, jazz, and old-school rock. It is a worthy competitor to many models of comparable rank. The VT999 can be completely silent, sound warm, soft, and perfectly hold your set tone. In addition, it has no middle ground for a rounded crunchy sound, and you go from one extreme to the other right away.
JOYO JF-03 – budget
Looking for classic rock distortion? My JOYO JF-03 review will introduce you to a bright representative of this class. This pedal is modeled after the MI Audio Crunchbox, so the British rock of the 60s and 70s is just what it can perfectly do. To understand its benefits and features, I will describe it in more detail. But let's not waste time and get to the most interesting part.
Build and design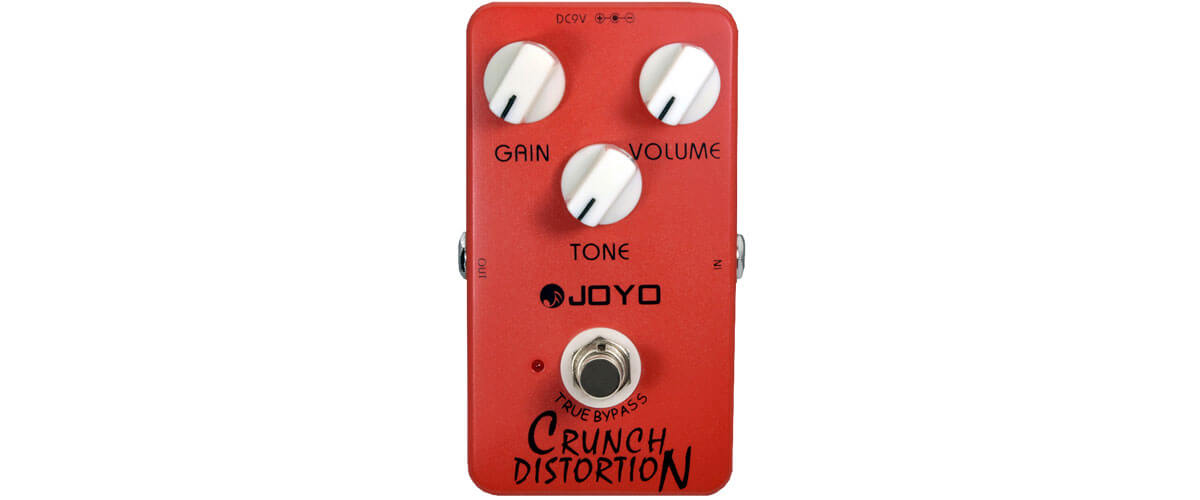 The JF-03 is very compact and lightweight because it's made of aluminum. But it is very durable and can last you for years, so feel free to stomp on it. The pedal measures 4.6 inches, 2.8 inches, and 2.2 inches and weighs 11.6 ounces, so you can literally carry it in your pocket, which is great for constant touring. Its rich red color and On/Off indicator won't leave it invisible, and you're sure to find it in the dark. Also, the white knobs of the Gain, Level, and Tone knobs that stand out in the red can help. The switch pedal is metal and shaped like a round button, as well as the standard IN and OUT jacks on the sides. Nothing extra, understated, stylish, yet bright. I love it.
Features
Well, the JOYO JF-03 features let you have a hard, responsive distortion reminiscent of British amps with high gain. It's classic rock, even if you set the Gain to the middle. You get everything you expected from this style - harmonics, punch, and cascading gain. You'll discover new facets of its sound when you connect the JOYO JF-03 to a circuit. For example, if you turn down your guitar's volume, you might hear something unsightly. That's why you can use an extra pedal in the chain in front of the JF-03 to boost the treble.
Sound
As for the sound, you'll have to experiment. Set the gain to zero and increase the volume for cleaner gain, or, to get that famous Marshall overdriven sound, turn the volume down and increase the gain, creating true rock and roll tones. Lower gain settings create great AC/DC-style tones. Setting the gain to medium gets you into Guns N 'Roses territory, and maximizing the gain gets you to classic Ozzy Osbourne, Iron Maiden, and Metallica gain levels.
If you like old-school rock, this pedal is for you. Considering its price on the market, you will definitely not miss out! Anyway, every musician should choose their own equipment according to their taste. And for that, you must do a lot of work: try new things, experiment, and never stop.
Key specs
Controls: pedal switch, tone, level, dist, EQ mid freq, EQ high freq, EQ low freq.
Connectors: input jack: 1/4-inch, output jack: 1/4-inch, DC IN jack.
Power Supply: Carbon-zinc battery (9V, 6F22), DC adaptor (9V).
Size (WxDxH), inch/cm: 2.8x4.7x2.1/7.2x12x5.5.
Weight oz/g: 10/290.
The JOYO JF-03 proves that overdrive pedals can serve for blues guitars. It's a clean sound with harmonica, punch, and cascade gain. Just what you need for blues if you take the time and tune the pedal properly. Considering its budget price, you definitely won't miss out!
MXR Bass D.I.+
Many names come to mind when it comes to effect pedals for bass guitars. MXR, which has long honed its craftsmanship in producing these devices, is also among them. But in this MXR Bass D.I.+ review, I propose to consider the advantages of the model, which is a direct injection box (direct input box) for bass, with which you can connect the instrument to the microphone input of the mixing console without distortion, signal loss, noise, and interference. It also functions as a preamplifier. Cool stuff. But let's make sure of it.
Build and design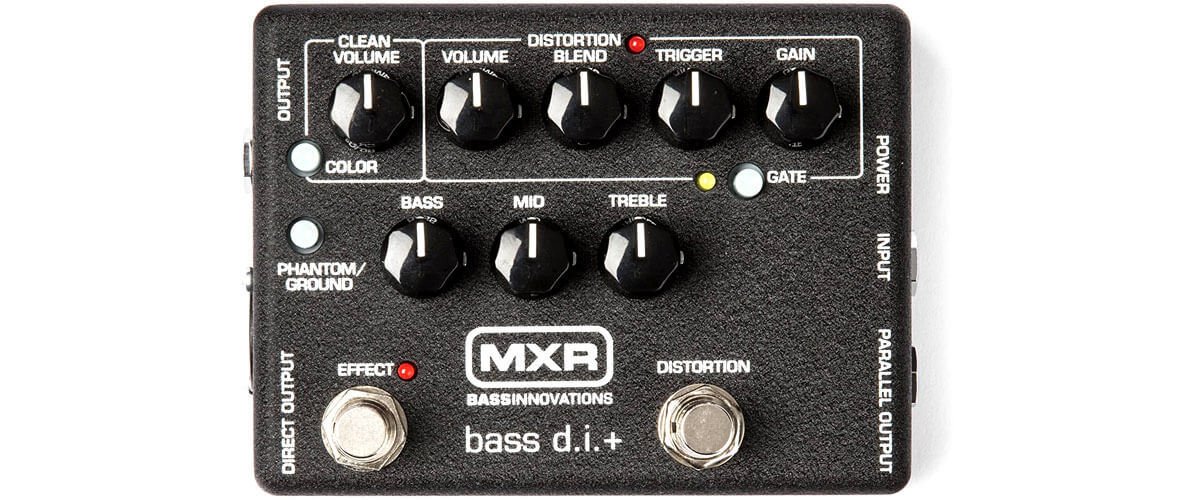 The quality of the DI box inspires confidence- the manufacturer definitely made an effort. The black metal case with reliable switches measures 1.5", 4.9", and 3.6", which makes it portable. All of the controls on the MXR Bass D.I.+ have luminescent signatures, which means you'll quickly figure out what they're for and can navigate even in the dark, and there's a 9V battery compartment on the bottom. It is the only plastic part that I would treat with care. Though, it's pretty sturdy too. On the sides, you will find 2 x 1/4" (Instrumental and Parallel) and 1 x XLR Output (symmetrical), 1 x 1/4" Output, and a 9V DC power supply jack, which is not included. On the front panel, there are metal Effect and Distortion buttons, Color, Gate and Phantom/Ground switches, and Clean Volume, Volume, Blend Trigger, Gain, Bass, Mid, and Treble controls. And now, I will tell you about the purpose of some MXR Bass D.I.+ features in a little more detail.
Features
With the Bass D.I.+, you get everything you need for your bass guitar in one small device. The special thing about the pedal is that it doesn't change the instrument's sound. It just lets the signal through, matches the impedances, and converts the signal to symmetrical. So you can connect it to other instruments, not just the bass! You also don't have to worry about the pedal's battery running out and the studio not having an outlet. Using the XLR (+48V) phantom power jack, you can connect the MXR Bass D.I.+ to your mixing console. When you use Clean mode, it gives you volume and equalization adjustments. When you press the Color button in this mode, the pedal makes frequency corrections, activating the preset equalizer settings. You get the precise timbre and powerful sound of your instrument. To see how good this feature is, I'd suggest trying it out with different guitars because, in my opinion, it doesn't work for all of them. Set the Gain and mix it with the raw signal with Blend - this will give you some "ball." The Distortion will provide a tight retro sound with great upper harmonics, but don't forget to adjust the Trigger and turn on the Gate to suppress noise.
Sound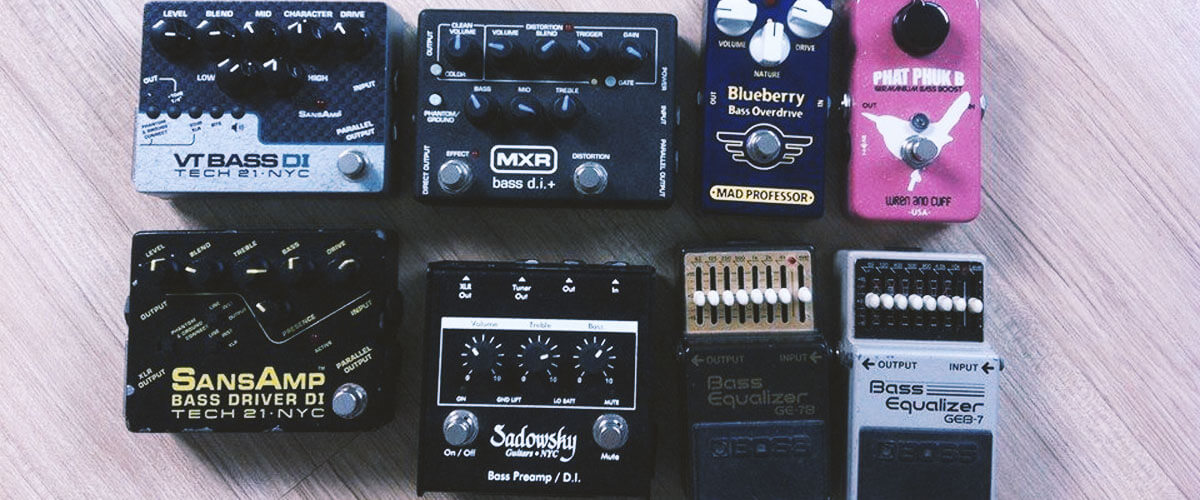 The sound of the MXR Bass D.I.+ is warm and tight. The passive pickups produce a warm, round sound, while the active pickups produce a solid, punchy sound. It's great for classic rock, pop, and country because the pedal provides quality extraction of your bass guitar's transparent signal or growl. Its old-school tones will also be good in jazz and blues. It's not just a DI box; you also get a quality two-channel preamp with clean and distortion channels. Its build quality gives you the confidence that it won't fall apart after frequent use- it's just a great bass guitarist's helper. Still, not everyone likes the retro sound, so try out the pedal before you buy it. Nevertheless, I'm sure it will appeal to many. And given its affordable price, it could compete well with many devices of its rank.
Key specs
Controls: pedal switch, distortion, phantom/ground, bass, mid, treble.
Distortion blend: clean volume, volume, blend, trigger, gain.
Connectors: input jack: 1/4-inch, output jack: 1/4-inch, balanced output: XLR, DC IN jack.
Power Supply: battery (9V), DC adaptor (9V).
Size (WxDxH), inch/cm: 4.9x1.5x3.6/12.4x3.8x9.1.
Weight oz/g: 12.3/348.
The MXR Bass D.I.+ makes an excellent overdrive blues guitar pedal. Its sound is warm and tight, and the old-school tones will be very good in this style. With passive pickups, you get a warm round sound, and with active ones, you get a good punchy sound. It's not just a DI box; you also get a quality two-channel preamp with clean and distortion channels.
FAQ
Why is my distortion pedal so noisy?
Yes, this happens sometimes. If it is a "squeal," maybe just turn down the gain and volume a bit. You can also try to power the pedal from the battery or battery power instead of the mains. There can also be a problem with the cord. There are many situations, and you will learn more about such problems, as well as ways to solve them, in
this article
.
What goes first, distortion or delay?
When it comes to any amplification pedal: Distortion, Overdrive, or Fuzz, you should always install it at the beginning of the chain, right after the guitar. Because these pedals will amplify all the signals that go into them, and so they will distort. As a result, you will get not the expected effect but something incomprehensible.
Should I practice with distortion?
Distortion helps cover up some of the flaws in the sound of your guitar but not your playing. As a result, the sound will be stronger and louder, and I'm not sure you can hear where you're going wrong. At least, at first. So I don't see the point of practicing with any effects at all. In my opinion, you should first hone your skill and then try to play with effects pedals. On the other hand, if you have an absolute musical ear and you like what you get when you play, who can forbid you?
Does distortion ruin speakers?
While the distortion itself is not harmful to the speakers, it can be damaged by the volume. Many performers of heavy genres of music believe that the more distortion/volume, the better they sound. But this is far from the case. If you increase the distortion effect, the attack and punch are missed, and you can get lost in a furious, in your opinion, stream of "square" inaudible sound for the listeners. Try to hear what you're playing, or ask a friend to help you. Learn to adjust the equalizer and pedal tone so that the sound is quality, not just loud. Playing your music too loud or too hard can end up damaging your speakers if they are not designed for it. After all, the speakers have a certain volume range and power rating, and the coils can simply burn out if they overheat.