Well, some names speak for themselves. And in this MXR M75 review, I'll introduce you to an effect pedal that bears the proud name of Super Badass Distortion. MXR was a pioneer in making pedals, but they've honed their craftsmanship quite a bit over the decades. So, in this case, you get a solid, robust device with a great distortion range. Also, the pedal works with single-coil pickups and humbuckers equally well. Now, let's look at the inside.
Build and design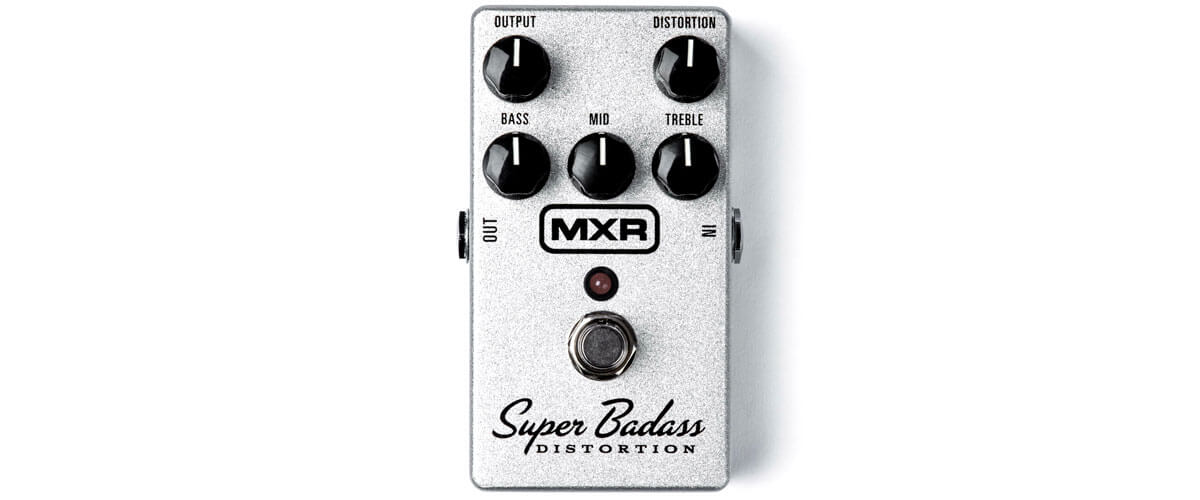 The MXR M75 is the epitome of elegance, especially when you consider the fact that the top panel of the enclosure, which is small, has five knobs, a foot switcher, and an On/Off indicator. The IN/OUT connectors are on the side panels. The case itself has a silver color and is sturdy enough, as well as the control knobs. So you can safely stomp on it, and it will hold up. At the same time, the manufacturer has made the body thinner, which means that the pedal itself is much lighter than the others, making it even more portable and comfortable. The M75 measures 2.12″, 2.62″, and 4.37″ and weighs 0.53 lbs.
Features
As for the MXR M75 Super Badass Distortion features, they are capable of impressing. This pedal has five control knobs. The top row is Output and Distortion. You will be able to sound really dirty and ferocious. The bottom row is the 3-band Bass, Mid, and Treble EQ. These will give you a very wide range of tone control because Bass works with the lower frequencies, and Treble works with the high frequencies, giving you a much wider range of tone than conventional controls. Accordingly, the Mid – mid-range can be cut out altogether if you suddenly want to. But the main thing is that all the control is just in your hands. Feel free to experiment and spend enough time practicing. Then, you can achieve a classic vintage feel with the right setup.
There's also True Bypass. The M75 runs on a 9V battery or a Dunlop ECB003 adapter, which are not included. You can also use DC Brick, Iso-Brick, and Mini Iso-Brick power supplies.
Sound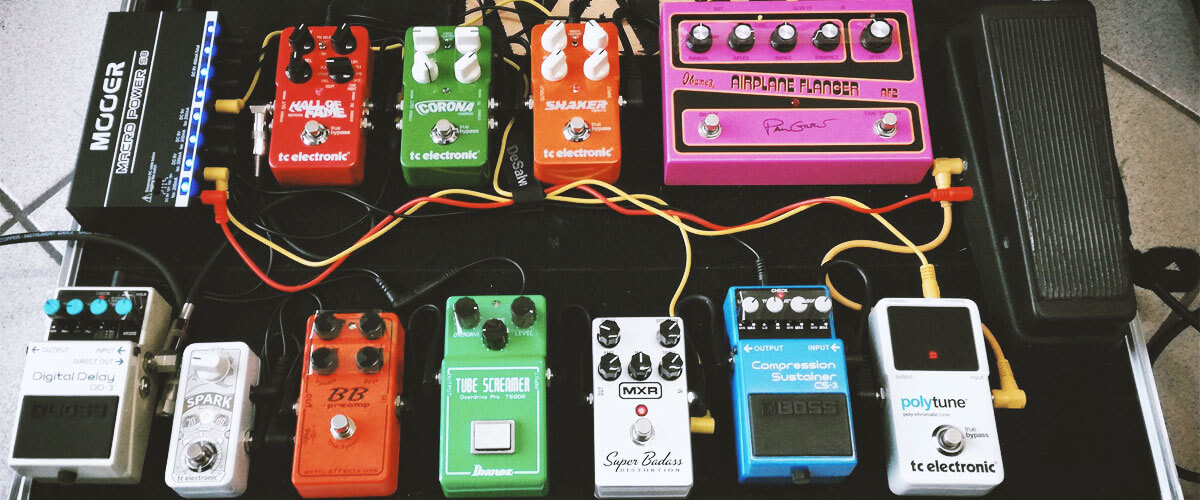 I consider this pedal versatile, and that's not just about its controls and capabilities but also about how the MXR M75 sounds. Whether you use it by itself or connect it to your pedalboard, it will work the way you expect it to work. Blues, grunge, rock riffs, and even ferocious metal tones are available to it. The M75 can be "wicked" or "soft" and crisp; it can be sharp or smudged. My point is that it can do it all because pedals with a single purpose – usually fulfill it 100%. So it all depends on what you want to get. I spent a lot of time tuning and reconnecting the circuit to get the tones I wanted, but in the end, I got them! So I can recommend it with a clear conscience. All it takes is a reserve of patience to explore its capabilities. And if you love the electric guitar as much as I do, you'll be fine.
Key specs
Controls: pedal switch, tone, level, dist, EQ mid freq, EQ high freq, EQ low freq.
Connectors: input jack: 1/4-inch, output jack: 1/4-inch, DC IN jack.
Power Supply: battery (9V), DC adaptor (9V).
Size (WxDxH), inch/cm: 6×4.5×2.7/15.2×11.4×6.8
Weight oz/g: 3.1/90.