Looking for classic rock distortion? My JOYO JF-03 review will introduce you to a bright representative of this class. This pedal is modeled after the MI Audio Crunchbox, so the British rock of the 60s and 70s is just what it can perfectly do. To understand its benefits and features, I will describe it in more detail. But let's not waste time and get to the most interesting part.
Build and design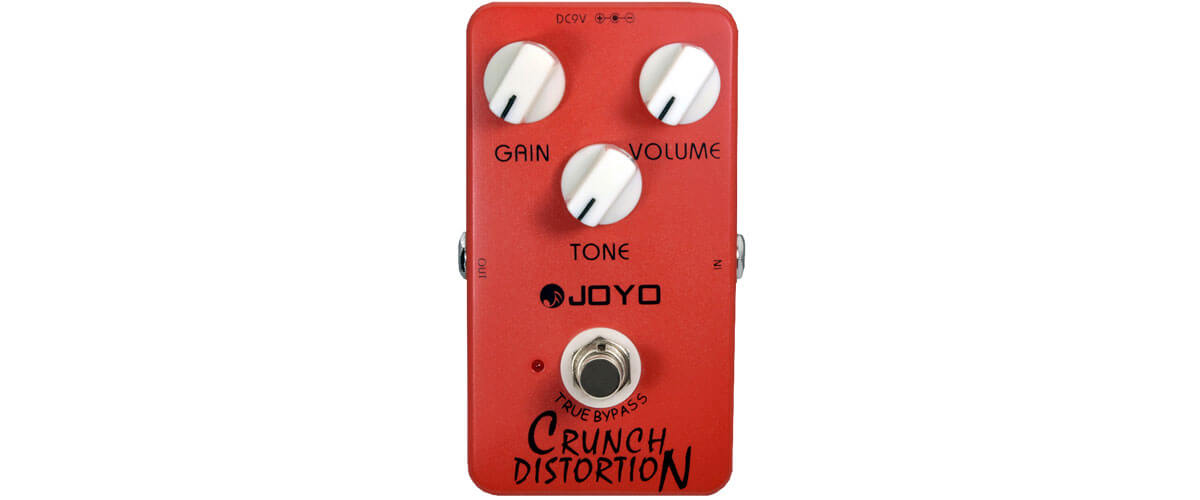 The JF-03 is very compact and lightweight because it's made of aluminum. But it is very durable and can last you for years, so feel free to stomp on it. The pedal measures 4.6 inches, 2.8 inches, and 2.2 inches and weighs 11.6 ounces, so you can literally carry it in your pocket, which is great for constant touring. Its rich red color and On/Off indicator won't leave it invisible, and you're sure to find it in the dark. Also, the white knobs of the Gain, Level, and Tone knobs that stand out in the red can help. The switch pedal is metal and shaped like a round button, as well as the standard IN and OUT jacks on the sides. Nothing extra, understated, stylish, yet bright. I love it.
Features
Well, the JOYO JF-03 features let you have a hard, responsive distortion reminiscent of British amps with high gain. It's classic rock, even if you set the Gain to the middle. You get everything you expected from this style – harmonics, punch, and cascading gain. You'll discover new facets of its sound when you connect the JOYO JF-03 to a circuit. For example, if you turn down your guitar's volume, you might hear something unsightly. That's why you can use an extra pedal in the chain in front of the JF-03 to boost the treble.
Sound
As for the sound, you'll have to experiment. Set the gain to zero and increase the volume for cleaner gain, or, to get that famous Marshall overdriven sound, turn the volume down and increase the gain, creating true rock and roll tones. Lower gain settings create great AC/DC-style tones. Setting the gain to medium gets you into Guns N 'Roses territory, and maximizing the gain gets you to classic Ozzy Osbourne, Iron Maiden, and Metallica gain levels.
If you like old-school rock, this pedal is for you. Considering its price on the market, you will definitely not miss out! Anyway, every musician should choose their own equipment according to their taste. And for that, you must do a lot of work: try new things, experiment, and never stop.
Key specs
Controls: pedal switch, tone, level, dist, EQ mid freq, EQ high freq, EQ low freq.
Connectors: input jack: 1/4-inch, output jack: 1/4-inch, DC IN jack.
Power Supply: Carbon-zinc battery (9V, 6F22), DC adaptor (9V).
Size (WxDxH), inch/cm: 2.8×4.7×2.1/7.2x12x5.5.
Weight oz/g: 10/290.