For those who understand the variety of electric guitar gear Electro-Harmonix Little Big Muff review won't be new because this model is a smaller version of the famous EHX Big Muff Pi, which has been on the market since the 70s. For those who don't know, it's a fuzz-style distortion pedal with a wonderful effect. It's still the same stuff in a smaller package. But unlike previous versions, it has eliminated the lack of cabinet strength. And now it's coveted by many because it's compact for transportation and convenient to add to your pedalboard.
Build and design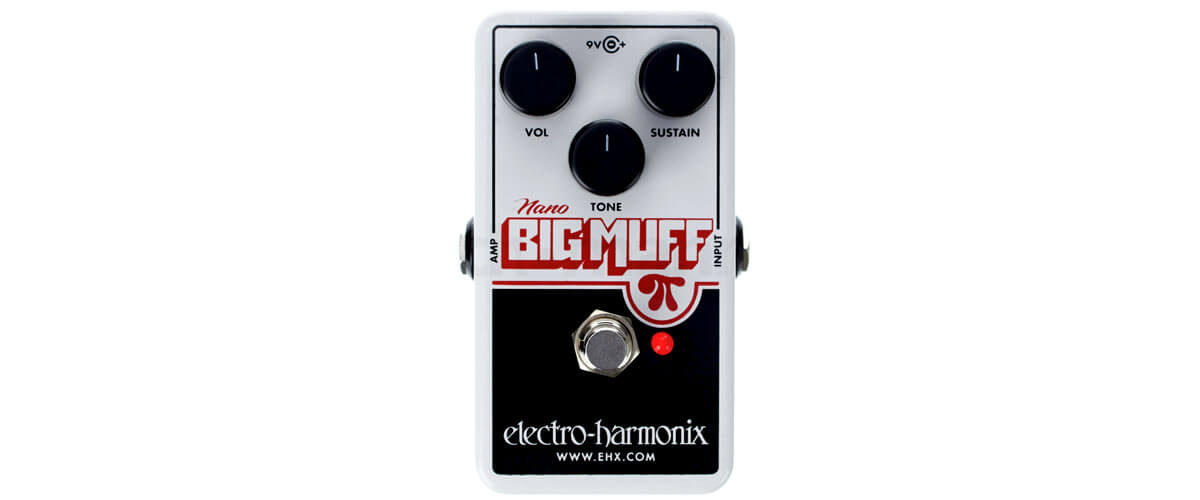 So, the Little Big Muff is compact and reliable. It measures only 10.2 inches, 8.9 inches, and 12.1 inches and weighs 12.3 oz. The original model was bulky, and all subsequent modifications lacked the necessary strength, broke quickly, and had to be replaced. As a result, the manufacturer has taken into account all customers' wishes, and today we can use a solid device (cast body even to the touch inspires confidence) with excellent control knobs.
There are three Control Knobs, a Bypass Footswitch, an On/Off indicator, and Input and Output jacks on the sides of the body. The only thing that may make it difficult to use the EHX Little Big Muff is the lack of a battery hatch. To replace it, you will have to unscrew the back panel. Fortunately, you don't have to do this very often.
Features
Next, I will describe the Electro-Harmonix Little Big Muff features. Let me start by saying that the 9V battery is included in the package. The pedal can also run on an adapter, but you need to buy it separately. Also, the connectors in the early models required a mini jack adapter, but now they are standard 6.3 mm, like BOSS. But all these would not be so important if not for its main function – the fuzz effect.
The pedal has only three controls: Volume, Tone, and Sustain. So, basically, you have one sound that can change the timbre and sustain. It's easy – just tune it to your taste and play. When you're done playing, turn it off. I'll tell you about the effect that the Little Big Muff produces in the "Sound" section. Plus, the Little Big Muff has a True Bypass feature, which makes it even more pedalboard-friendly by directing the signal from the guitar input to the output when it's turned off.
Sound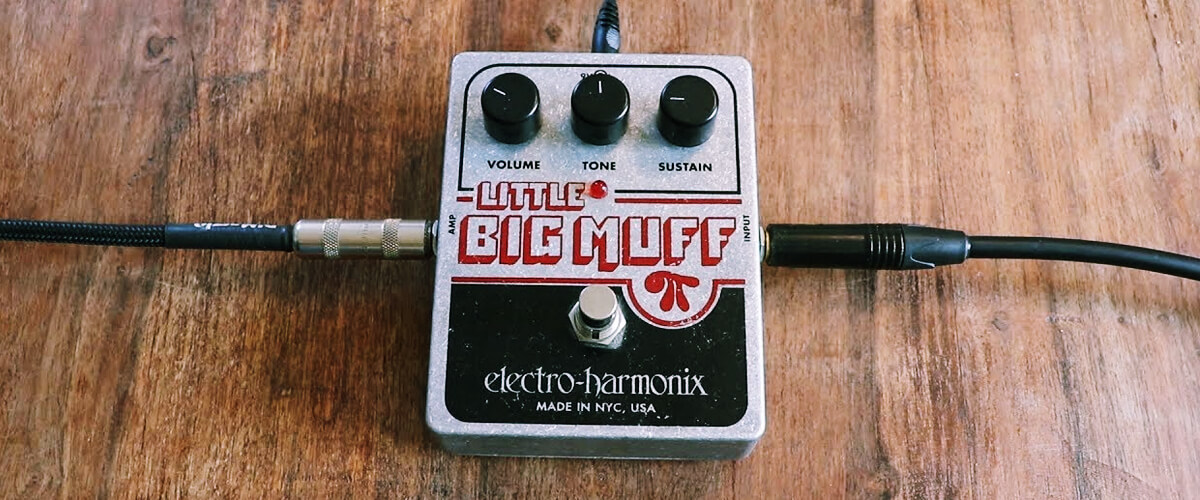 So, as a result of using this model, you get only one distortion – an incredible hissing sound and limitless sustain. Electro-Harmonix's Little Big Muff sound is recognizable, and if you want to understand what it is – listen to Pink Floyd (for example, Comfortably Numb), Nirvana (Lithium), or Mudhoney. At the same time, you'll realize how different fuzz distortion can be from this pedal. And all for a great price! You'll have to experiment with the Tone control because it's so sensitive that any slight left or right turn will give you the widest range. Pick what you like and play, play and play.
Key specs
Controls: pedal switch, tone, level, sustain.
Connectors: input jack: 1/4-inch, output jack: 1/4-inch, DC IN jack.
Power Supply: battery (9V), DC adaptor (9.6V).
Size (WxDxH), inch/cm: 10.2×8.9×12.1/26×22.6×30.7.
Weight oz/g: 12.3/348.