In this Boss MT-2 review, I will tell you about one of the most famous pedals but, at the same time, controversial pedals. All guitarists know it, but it has earned absolutely opposite feedback during its history. By the way, this model was released in 1991 but is still one of the best-selling models. Let's look at the Metal Zone MT-2 features; they may help you decide whether this pedal is suitable for you. Already from the name is clear, the distortion pedal will be more for fans of the Metal genre. Even in this case, I recommend hearing it first because the Boss MT-2 sounds specific.
Build and design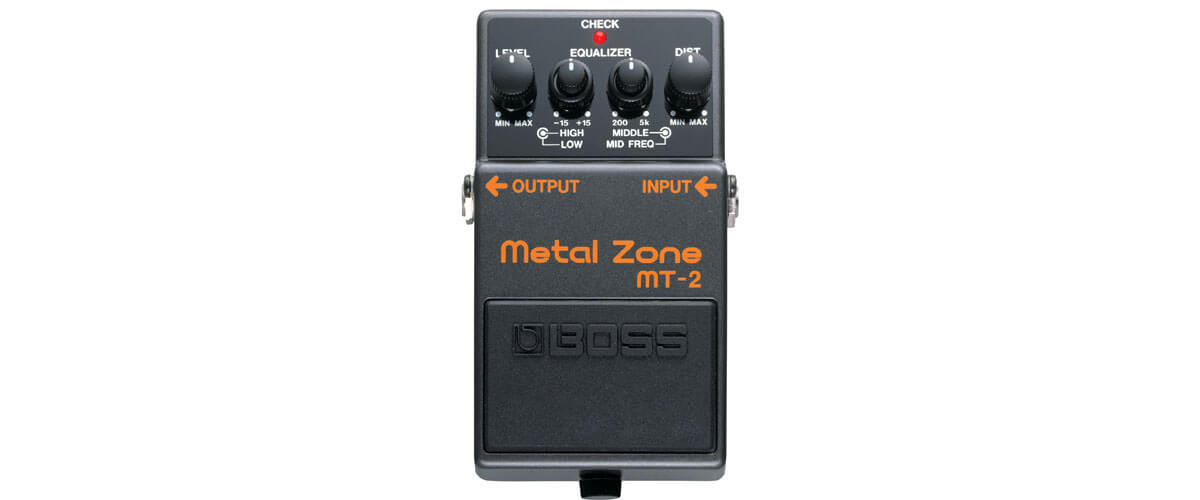 All musicians know Boss pedals as being "eternal" and unbreakable because they are made of durable metal and have a rubberized switch. They last long, and they really do, so you can safely buy the Metal Zone for frequent concert performances. Plus, it weighs 14 oz and measures 2-7/8 inches, 5-1/8 inches, and 2-3/8 inches, making it compact. The MT-2 Metal Zone is as easy to use as most Boss pedals. All 4 knobs are on the front panel and are conveniently located. I will tell you about them in the next paragraph. In addition, there is an on/off pedal, two jacks on the sides, and a CHECK indicator (used to indicate the presence of a check battery). You set this pedal once before using it, and don't touch it again during playing.
Features
The Boss MT-2 is a pedal with a two-stage distortion circuit and multiband EQ and has a lot of tuning and gain options. You may like it or not, but it is a good device with great features. And whether you like the result of the sound is up to you.
So, we have 4 knobs, and among them, there's no TONE, which is usual for distortion pedals. But instead, we have two EQUALIZER knobs. The EQUALIZER HIGH/LOW knob controls the standard high and low frequencies. The second EQUALIZER MIDDLE/MID FREQ knob is a feature of the MT-2, and once you figure it out and adjust it, you'll reach a new level of overdrive. You'll have to struggle to tune it; the minimal deviations will make your guitar sound different. But the result is sure to impress the listener as well: real, heavy metal, everything is on point here. The DIST and LEVEL knobs do their direct job of boosting volume and distortion.
This model also has True-Bypass, which directs the guitar signal from the input directly to the output. So you can turn the pedal off in a chain without the danger of damaging the instrument. But this only works with small circuits; otherwise, the timbre will dissipate. The Metal Zone can run from a Carbon-zinc battery (9 V, 6F22) or with a Boss PSA 9v power adapter, which you have to buy separately.
Sound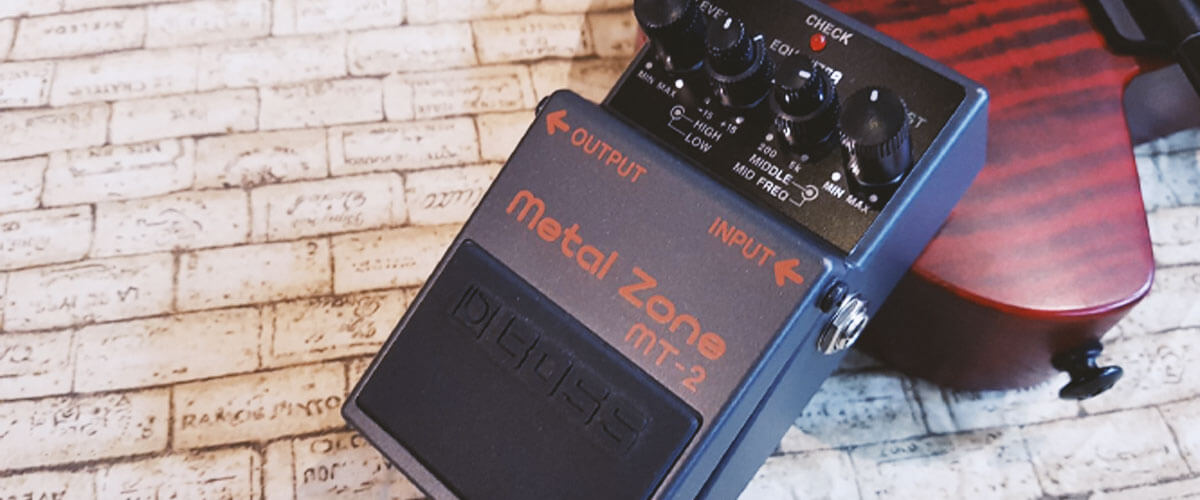 It seems to me that the ambiguous attitude to the Boss MT-2 Metal Zone is connected exactly with its sound because it's hard to complain about the functions. You can achieve extremely aggressive tones worthy of legendary compositions with the right tuning. Indeed, the factory settings are scary-sounding, but with enough time and effort, you can get metal riffs, Metallica-style rhythm tones, and unbelievable gain levels. What else do you need from a distortion pedal? All in all, it's not a device for the lazy ones. But there are still those who don't appreciate the result, and that's because there are no people with the same tastes. Definitely, it will be appreciated by fans of heavy stuff, but it will be good among the guitarists of other genres. So try it, listen to it, and experiment with it. Everything will work out!
Key specs
Controls: pedal switch, tone, level, dist, EQ mid freq, EQ high/low freq.
Connectors: input jack: 1/4-inch, output jack: 1/4-inch, DC IN jack.
Power Supply: Alkaline battery (9V, 6LR61) or Carbon-zinc battery (9V, 6F22), AC adaptor.
Size (WxDxH), inch/cm: 2.8×2.3×5/7.3×12.9×5.9
Weight oz/g: 14/385.