In this Boss DS-1 review, I will tell you about one of today's most popular and selling distortion pedals. It was introduced back in 1978 and was produced in Japan and later in Taiwan. And in the 2000s, Boss became part of Roland. However, these events did not affect the quality of the product, and numerous modifications only improved the basic model.
The bright orange pedal has incredible durability, so you can often find many used models on the market. And I assure you, they are still as great as they were years ago. Another attractive aspect of the Boss DS-1 is its price, which is surprisingly low for such a celebrity. So let's take a closer look at it.
Build and design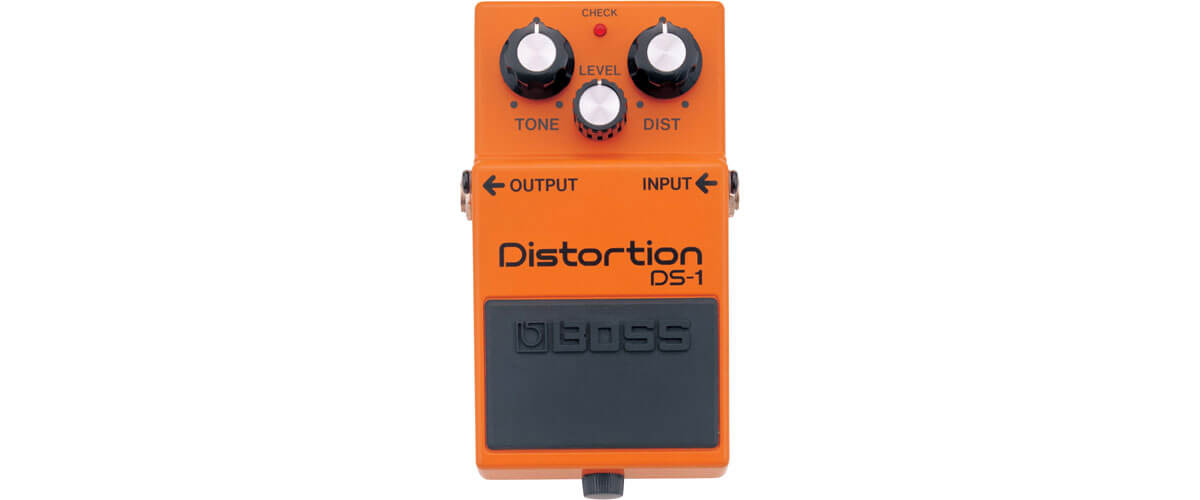 The design of the pedal has not changed since its creation and is recognizable all over the world. The case is incredibly sturdy, and it can last you for a very long time. You don't have to worry about its integrity; use it with pleasure!
The Boss DS-1 is pleasant to look at and easy to operate. In addition to the standard input and output jacks you can use to connect it to your circuit, it also has three control knobs and a foot pedal. There is a CHECK indicator to indicate the control battery. So nothing can throw you off. The distortion pedal is portable and will fit in your pocket – that's how compact it is. With a weight of 13 oz, it measures only 2-7/8 inches, 5-1/8 inches, and 2-3/8 inches. So this is an option where you can use it wherever you want.
Features
Let's get down to the features of the Boss distortion DS-1. As I have already written, it is very simple and comfortable. For example, the on/off pedal is very smooth and doesn't snag or break. And the 1/4″ DC input and output connectors are telephone-type with a 20 dBu rating. The pedal is powered by an alkaline battery (9V, 6LR61) or a zinc-carbon battery (9V, 6F22), but you'll need to buy an AC adapter.
There are only three controls: TONE, DIST, and LEVEL. The latter essentially controls the volume, allowing you to use the Boss DS-1 at a concert with maximum sound or home by setting it to the minimum. TONE – The frequency control, their equalizer, is a standard control for most pedals, as it is for an amp or electric guitar. In the left position, you get more bass; in the right position, you get more treble. With DIST, I hope everything is clear. With this control, you turn the clean sound of your guitar into a distorted and crunchy sound. Perfect for performing heavy genres.
Sound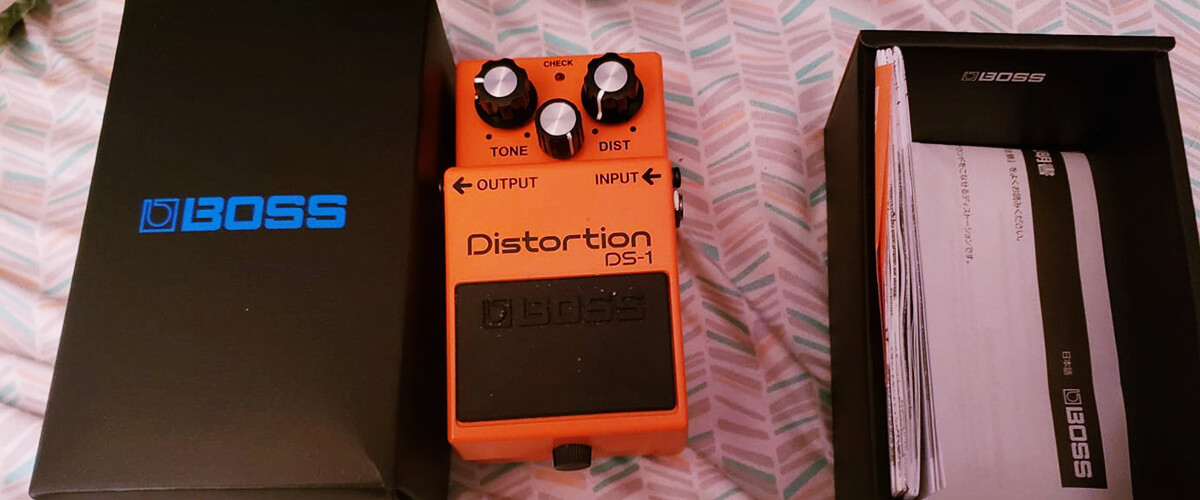 To conclude all the above, it is only necessary to tell how the Boss distortion pedal sounds. I have a tube amplifier, and there were no problems. But I have encountered comments about it not being very good with solid-state ones. So, just keep that in mind, and check beforehand.
Otherwise, in my opinion, this pedal is perfect for your circuit. And, of course, it's suitable for metal and rock, delivering a fun, high-quality overdrive. Excellent wide-range tone, low gain, warmth, and harshness – a combination worthy of old-school masterpieces. For solos, you can press it on an already distorted sound to achieve more volume and balance the sound.
Still need proof? Steve Vai, Joe Satriani, Daf Aldrich, Mike Stern, and other legends have used the Boss DS-1. So I think it's worth you, too.
Key specs
Controls: pedal switch, tone, level, dist.
Connectors: input jack: 1/4-inch, output jack: 1/4-inch, DC IN jack.
Power Supply: Alkaline battery (9V, 6LR61) or Carbon-zinc battery (9V, 6F22), AC adaptor.
Size (WxDxH), inch/cm: 2.8x5x2.3/7.3×12.9×5.9.
Weight oz/g: 13/360.